The Vice-Chancellor of Precious Cornerstone University, Prof Julius Oloke paid a courtesy visit to the management of National Centre for Genetic Resources and Biotechnology at the institute headquarters in Ibadan.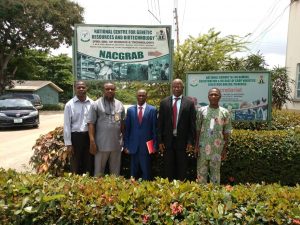 According to the Vice-Chancellor, Precious Cornerstone University (PCU) is on the process of signing a memorandum of understanding with NACGRAB. He thanked the institute for their readiness to collaborate with PCU in order to enhance research activities of the institution.
In his own reaction, the Director/CEO of the institute, Dr. Sunday E. Aladele assured the University of their readiness to collaborate with PCU; and to render any meaningful aid on the area of research.