Lending a voice to clarify the relationship between Christians and Politics
 The Chaplain – Dr. Sola Ajibulu presenting the seminar themed "Christian Participation in Politics: God's will or vain Ambition?"
Precious Cornerstone University held her first Chaplaincy Seminar on Tuesday in the University Auditorium on the theme: "Christian Participation in Politics: God's will or vain Ambition?"
The foremost seminar which was powered by the University's Chaplaincy in partnership with the University, was aimed at providing facts-based and biblical-based insight on the perspective Christians should have towards political participation. 
Dr. Sola Ajibulu, who was the Speaker,  stated that his experience as a young lad which was dipped in "politics and a lot of deep thinking" stands as a background to his interest in politics. "…As a young teenager, I used to brood a lot. …My dad was a politician in Lagos State House of Assembly from 1979-1983. He was the first Honourable to represent Oshodi-Isolo constituency. Some of the influences on my life, like Chief Awolowo whom I saw twice but never met…particularly the governor at that time, Alhaji Lateef Jakande, …Through the influence of my dad and moving around with him, I started getting some interest in politics and leadership.", he narrated.
In highlighting the reasons believers don't participate in politics, Dr. Sola Ajibulu who is the Chaplain for Precious Cornerstone University identified Fear, Fund limitations and erroneous Facts as restrictive factors. These factors included, "fear of compromise, the fear of Juju power, fear of failure, fear of controversy and its attendant consequences, lack of money to fund electoral campaigns, the belief that Jesus is against political involvement" amongst many more. 
Showing topmost awareness that some christians do venture into politics but have recorded failed attempts, Dr. Sola Ajibulu gave a diagnostic view on underlying causes for this outcome. He identified these factors as, "lack of definite call in politics, inconsistent lifestyle, lack of capacity, lack of strong will power, lack of understanding dynamics of politics, sheer apathy, lack of well stipulated agenda".
The Chairman of the programme, the Vice Chancellor, Professor Julius Oloke
As the Chairman of the programme, the Vice Chancellor, Professor Julius Oloke, expressed his gladness over the seminar as it will "encourage engagement in dialogue and promote knowledge sharing". He emphasized that calling is a key factor to thrive in the political world. Professor Oloke applauded this feat and said "This is a good style and we must make sure we keep the flag flying".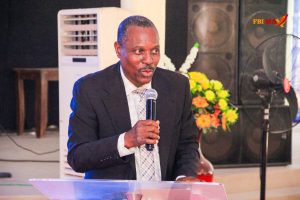 The Lead Responder, Dr. Jaiyesimi Adeoluwa explaining his motivation and experience in the world of politics as a believer
The Lead Responder, Dr. Jaiyesimi Adeoluwa – a politician, decried the alarming rate of disinterest, lack of financial and physical support of believers. He mentioned that "It is the right for believers to rise and take charge of the political arena… most importantly to support other believers when they rise". 
The Librarian – Dr Olajide Afolabi and The Bursar – Mr Festus Oladokun listening during the Seminar
Due to Dr Sola Ajibulu's strong concern for Christian's role in Politics, he explained, "If Jesus will be involved in politics, somebody must carry his presence". This has informed the years he has spent in rigorous research and the resultant effect is this first Chaplaincy seminar, a strong desire and call to prepare Christians who have a call to serve in politics for the task ahead. Most notably, a key resultant effect is the ongoing publishing of a book: Christians can Serve God in Politics.
Dr Imah Harry anchoring the Seminar
The Seminar was anchored by Dr Imah Harry and attended by Pastors, Politicians, Principal officers, Staff, and students of Precious Cornerstone University
Some of the attendees during the Seminar