Dr. J. A. Awokola and Dr. O. C. Prince-Hector both of Precious Cornerstone University today joined other professionals in the ICT field from other institutions, as a committee was inaugurated today at the Conference room of the Oyo State Ministry of Education, Science and Technology Ibadan. The Committee was charged with the duty of creating a new joint scheme of work to overhaul the existing one in the area of ICT/Computer Studies and Data Processing for both Primary and Secondary Schools in Oyo State. This is a step towards making Oyo State be at the cutting edge of the ICT Revolution and also be better positioned for relevance in the coming 4th Industrial revolution.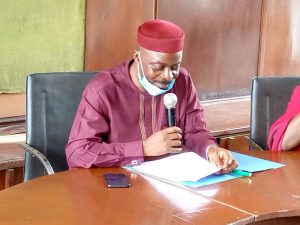 The inaugural sitting had at present; The Honorable Commissioner of Education Science and Technology, Barr. Olaleye, The Permanent Secretary of the Ministry, Alhaja Atere, and other directors and deputy directors in the Ministry
Precious Cornerstone University is the only institution with 2 representatives on the committee.