The Head of Economics Department of Precious Cornerstone University, Dr Francis Adeyemi stated boldly that the graduating students of Economics, Class 2021/2022 are trained and well equipped with knowledge to help them stand out in their career path.
       Dr. Francis Adeyemi,  Head Of Economics Department
He asserted this during the Press Conference organized by the University to mark the beginning of the Maiden edition Convocation Ceremony.
He further highlighted that the department adopts best practices in training their students evidenced in the setting up of Econometrics Lab. Giving credence to his word, the best graduating student of the 2021/2022 set, Omilani Aminat, emerged from the Economics department.
He highlighted that her training did not only make her sharp but is also fetching income for her. "I have a colleague who requested for a research assistant to run and interpret an analysis. I knew instantly that Omilani could do that assignment and I sent it to her. She would surely turn in a good job."
Omilani Aminat, the best graduating student of 2021/2022 described her training in the department of Economics in Precious Cornerstone University as a drilling awesome experience. She said "Our lecturers went the extra mile to equip us with practical skills expected of us as graduates of Economics. Right from 300 level, we were taught how to conduct and interpret econometric analysis. It was really an awesome experience".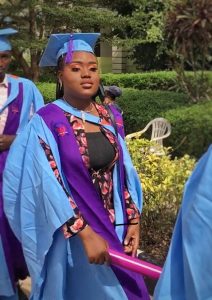 Omilani Aminat, Best graduating Student Class 2021/2022
Dr Adeyemi concluded that the department of Economics is committed to maintaining and raising the teaching and training standards high to produce world class economists that can function excellently in banks, manufacturing agencies, public service roles and any career path they choose to pursue.
The University celebrated its maiden Convocation, a week-long event which started on Friday, November 4 2022 with a press Conference. The list of activities included a novelty match, Convocation drama and Variety Night, The Convocation lecture, Luncheon, Award of prizes and Investiture of Chancellor. The event was attended by dignitaries, Executives of prestigious educational institutions, parents and well-wishers.