Following the outcome of Resource Verification Exercise conducted by the National Universities Commission to Precious Cornerstone University Ibadan, the Commission has approved five new academic programmes for the University.
The new academic programmes that were approved are:
BSc Mass Communication
BSc Procurement Management
BSc International Relations
Bsc Cyber Security
BSc Software Engineering
The Resource Verification Exercise was done by the NUC to be ascertained the level of readiness of the University to commence these new academic programmes. Some of the areas NUC pays attention to before approval could be given to commence new academic programme are: manpower, facilities, library, hostel accommodation and lecture rooms.
The management of Precious Cornerstone University enjoins all prospective students for these new academic programmes to apply for these programmes for 2021/2022 ongoing academic session.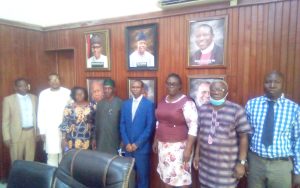 The Vice Chancellor Prof. J.K Oloke and Principal Officers of the University with NUC officials during the exercise