How PUCRID impacts Efun Central Landlords/Tenants Association
Sequel to the sensitization of over 10 elders of the Olaogun, Efun Central community on practices for living a healthy long life in November 2022, the University organized a One-day Health Talk to accommodate the larger community in the University Auditorium.
Some of the Community Attendees of the Sleep Workshop
The One-day Health talk themed SLEEP, a pioneer event of the Precious Cornerstone University Centre for Research, Innovation, and Discoveries (PUCRID), was designed to educate the community dwellers on the causes of sleep challenges and practical steps on how to overcome them. Professor Julius Oloke, the Vice Chancellor of Precious Cornerstone University explained that the outreach was organized as a way of using the knowledge the university discovers to upgrade the world, even her immediate society.  
The First Facilitator, Mrs Olufunmilola Faminu who is a Consultant Nurse Practitioner and a Deputy Director of Nursing at the University College Hospital, Ibadan spoke extensively on what sleep is, qualities of good sleep, effect of good and poor sleep as well as proactive solution to improve sleep quality
The First Facilitator, Mrs Olufunmilola Faminu educating the community residents
"Sleep is of importance to us all. Infants need about 16 hours of sleep,Toddlers and preschoolers need about 12 hours. Teenagers need about nine hours, adults need 7-8 hours, whilst pregnant women often need more sleep during the first trimester. But Alcohol, caffeine, medications such as antidepressants, very hot or cold temperatures, and heavy smoking are factors that shift the neurotransmitters and influence the quality of sleep". She explained.
From L-R: Key Community Leaders, The Registrar – Dr Pedetin Afolabi, The Vice Chancellor – Professor Julius Oloke. 
Mrs Faminu highlighted practical solutions to prevent sleep disorders like Insomnia, Narcolepsy, Sleeping Apnea, Restless Legs Syndrome and Snoring.  "To increase your sleep quality, follow the 10- 3- 2- 1- 0 sleep rule which is to Cut out caffeine 10 hours before sleep; No alcohol 3 hours before bed; Stop working 2 hours before bed; No screens 1 hour before bed; Do not hit snooze button.. "Other practical steps include creating a sleep schedule, a good sleep environment, exercises, relaxation activities e.g bath, reading, conscious effort to clear the mind, Talking to a doctor about sleep can help you get a better sleep".
The Vice Chancellor, Professor Julius Oloke whilst facilitating the second session
 To shed more light on increasing the quality of sleep, the Vice Chancellor, Professor Julius Oloke, who was the second facilitator highlighted more problems of poor sleep and solutions to get better sleep. "Poor sleeping habits lead to Hunger and cravings for more sugar and more fat with a sense of urgency. Poor sleeping Habits also leads to sleepiness as well as Attention Deficit Disorder"
The Registrar – Dr. Pedetin Afolabi  listening during the Seminar
"Valerian root, Kava kava, Lavender, Passion-flower, Hops, GABA, Bitter leaf, water extract of lettuce leaf are sedating herbals. Take them regularly. If your brain is busy at sleep-time, Recite a poem, prayer, hymn, or mantra; and count your breath. If you are still awake after 20 minutes, read under a soft light; stretch gently. You could also shower with warm water before retiring to bed. Initiate sleep by taking a small quantity of warm water before lying on your bed, breathe deeply repeatedly. If you wake up a few minutes after falling asleep, drink a small quantity of warm water, then go back to sleep via deep breathing". He said.
The Secretary of Efun Central Landlords/Tenants Association – Engineer Bola Adeyemi listening during the outreach
Professor Oloke narrated his own experience with interrupted sleep. He said, "Whenever I find myself in that condition, I read three Chapters of the Bible and drink a Tablespoonful of Trino IB which is an immune system booster". 
Chief J.M. Adeniran, the Chairman of Efun Central Landlords/Tenants Association appreciating the University and the Community Residents
Chief J.M. Adeniran, the Chairman of Efun Central Landlords/Tenants Association expressed immense gratitude to the University for the training. "I received word of how the school taught some of us on some health practices like walking on barefoot in the morning. Now, they have done this for us. Thank you", he said in yoruba. He further implored the community residents to heed the call of the university whenever a call is made." Although the facilitators spoke in English, interpreters were made available to translate to yoruba.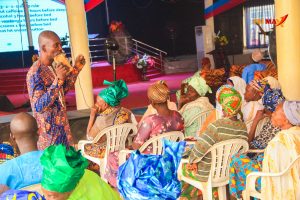 Mr Kuti and Mr Aderombi Interpreting in Yoruba Language
Medical outreach was also featured in the event in partnership with the University's Health Center. Community Members checked their blood pressure level as well as enjoyed free medical consultation.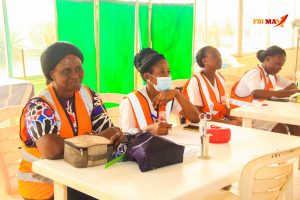 The Matron and Nurses of the University Health Center
Dr Imah Harry anchored the event, the Registrar – Dr. Pedetin Afolabi was present as well as staff and students. The attendants were treated to light refreshments.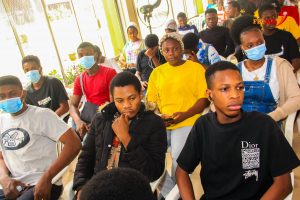 A Cross section of some of the students present