Golden Eagles show pride in their alma mata
Best Graduating Student – Omilani Aminat – giving her speech during the Maiden Convocation
Precious Cornerstone University held her maiden convocation ceremony which saw the release of 97 Golden eagles to make an impact in the world.
8 students across 5 departments – Economics, Biochemistry, Accounting, Computer Science, Microbiology, Biochemistry – graduated with First Class grade.
First Class Graduands of Golden Eagles (2022)
 Omilani Aminat who was the best graduating student of Class 2022 described her training in Precious Cornerstone University as a threefold experience that has equipped her to take on higher challenges in her journey as a world class economist.
She said, "Fellow graduates, I want you to know what a great gift it is to be as prepared as we are, because not all schools offer such an advantage. Here, we enjoyed a high degree of academic excellence, spiritual soundness and good moral upbringing and whether you intend to continue your education or not, you will benefit from what you learned here."
Vice-Chancellor – Professor J.K Oloke delivering his address during the Maiden Convocation
 The Vice Chancellor during his speech in the Convocation explained that the institution is not only focused on raising students who are academically sound, but students that are multifaceted. "At Precious Cornerstone, we have a mandate to graduate students who are ambidextrously skillful, with academic skill in one hand and entrepreneurship skill in the other". This, he explained, led to the establishment of the Entrepreneurship Unit which has led to the registration of the businesses of 98 students. Also, to help the students grow spiritually, the University introduced some general study courses coordinated by matured Pastors from Christ Life Church and other committed Christians in the university community.
From the Year Book of The Golden Eagles, the graduates highlighted their best experiences that marked them whilst in Precious Cornerstone University which emphasized the gift and access to great people they were privileged to enjoy, their academic training and extracurricular activities.
A Cross-section of Golden-Eagles (2022 Graduating Students)
 Ajisefinni Elijah, a graduate of the Department of Economics voiced that his best memory of PCU is "Becoming a student of Precious Cornerstone University". In appraising the extracurricular activity, Yohanna Covenant, a graduate of Accounting said his best memory is "Winning the VC Cup (2021 edition)". For Adebisi Tyler, an Accounting graduate and David Jethro, a graduate of Business Administration, "It was Paxandrex Trade Fair". Whilst for Aderinwale Faith, it was "Final year week".
Ariremako Faith appreciated the spiritual training she underwent and said "This may look weird but it was the day I received the gift of the Holy Spirit with the evidence of speaking in tongues during a worship in my 100 level days". She is a graduate of Accounting. Opayinka Dorcas, a graduate of Biochemistry, celebrated her memory of "collaborating chapel with academics for 4 years maintaining the same post".
Omotosho Shalom, a Biochemistry graduate noted that "the day the governor visited" was her best day in PCU. Nze Chigozirim, a graduate of Physics with Electronics, on the other hand said "Being able to meet greatness in the form of friends and colleagues" marked him.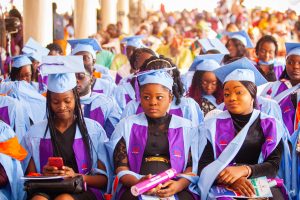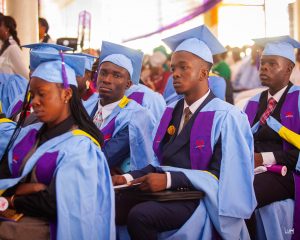 Golden Eagles in their Regalia
For Buari Tajudeen Alao, a Business Administration graduate, "Cordial Relationship between the lecturer and the students" was his best memory of PCU.
According to the Chancellor of the University Bishop Francis Wale Oke, the university is charged with a vision drawn from Psalm 144:12 to raise "sons that may be as plants grown up in their youth; that our daughters may be as cornerstones, polished after the similitude of a place".
The maiden convocation was attended by dignitaries, well wishers and the community.