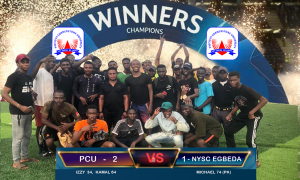 On the 25th of March, 2022, the PCU FC set out for a friendly away match with the NYSC EGBEDA Football Team at the URBAN Day Community School Sport field under the leadership of Dr. Hector Okere.
Indeed the PCU Legends were confident to win the match with the promise to redeem themselves from the humiliating loss they suffered from the UI PIONEERS.
Prio to the match date, a very strategic and tactical training was introduced by the coach. The PCU Football coach, Dr. Hector Okere carefully selected his team for the game. His planning was as though devised by Pep Guardiola since we played the Man City kind of football.
On the match day, our opponents were three times bigger in size and shape. We have every reason to shiver but our coach was there to encourage us as a commander at the fore front of the battle line.
The kick off was around 4:00pm that hot evening and that day history was written.
As at 34th minutes of the game the PCU FC took the lead with a goal technically scored by Okpe Israel known as IZZY with the assist by Lemmy German. We thought we will be squeezed by these guys but then we realized that football is not by size or stature but by the game play.
The first half ended and the second half commenced after a 10minutes rest. Meanwhile two tactical substitutions were made and football continued. The NYSC EGBEDA were played football. We literally destroyed them not with strength or muscles but with strategic foot play. As at the 64th minutes the PCU Legends added another sweet goal but this time by Kamal with a pass from Dr. Hector. We played them football although we lost so many chances.
The NYSC EGBEDA were able to secure a goal at the 74th minute of the game caused by our fierce defender (the wall of Jericho), Yohanna Covenant. A penalty chance was given and they scored. The friendly match ended 2-1
This game was a team effort. Everyone both the players, substitutes and the supporters tremendously added to the victory of our Team.
A great thank you to our Coach, our Guadiola for believing and training us to be the best.
We look forward for more matches and more wins. We remain Champions.
APPRECIATION
This indeed is beyond just a game but a lesson to learn that irrespective of how you fall, you can still stand. Couchey, you have indeed thought us far beyond just football but also discipline and morality.
A warm thank you to the University Vice Chancellor, Prof. Julius Oloke for his great support. We promise to make the University proud and let our lights shine through sports especially football.
This is from the table of the PCU FOOTBALL PLAYERS.
This News update is brought to you by the PCU ELITE PRESS CLUB.
                                   Writer: Abner Lionn